In previous posts we have learned who can claim copyrights, what those rights are, and how to get them. Now that we have defined copyrights, we are moving into the area of protecting your bands copyrights.
In the songwriting industry, protecting your copyright hinges on two main ideas:
• Documentation of the song (lyrics and melody line)
• Proof of possession of the song on a legally recognized date
Documentation of your song occurred when you fixed the song, as discussed in Copywrite or Copyright? So, your next step to protect your rights is to prove that you owned the song on a specific date. This is where the Poor Man's Copyright can come into play.
What is a Poor Man's Copyright?
It can get expensive to register every song you write with the Copyright Office and the process takes time. So, some people started saving time and money by mailing their songs to themselves. The idea is that using certified mail establishes a date because of the postmark and the artists' signature establishes proof of possession. The artist never opens the envelope containing the song until they are in front of a judge in a copyright dispute, thereby proving ownership of the song.
Does it work?
There are several inherent flaws in the Poor Man's Copyright:
• It can be faked in several ways, usually including mailing an empty envelope and altering your computers time stamp before burning a CD.
• There is no provision in copyright law for this type of protection.
• In the United States, you must have registered your song with the Copyright Office before an infringement suit can be filed in Court.
So, if you expect a Poor Man's Copyright to protect your song in Court… No, it does not work. In fact, no United States attorney will legitimately take your case unless your song is registered with the Copyright Office. The Poor Man's Copyright is NOT a legal substitution for copyright registration in the United States.
Should a Poor Man's Copyright be Used?
Do you ever NEED to use a Poor Man's Copyright? Probably Not.
CAN you use a Poor Man's Copyright? Yes.
In the "good old days" (pre-digital era) songwriters used a Poor Man's Copyright prior to sending their application to the Copyright Office. It takes about a week for the letter to be returned. It used to take a month or more to get their song registered, so the Poor Man's Copyright was viewed as a hedge against theft while registration was in progress. Now it is much easier and more accurate to use a digital timestamping website such as Numly if time is an issue for your band. In court, digital timestamping is also NOT a substitution for registering with the copyright office. It is, however, better than a Poor Man's Copyright for demonstrating a date of possession. Today, a few songwriters still do both snail mail and digital timestamping while waiting for Copyright Office approval. But, that seems to be more out of habit than actual legal benefits.
Although a Poor Man's Copyright does not benefit you legally, it is not going to hurt you either (other than the cost of postage). One area that it may help you is in a situation where you are trying to mediate a dispute prior to or instead of going to court. It would be ideal if Christian bands or songwriters having a dispute with each other would use mediation with their Pastors. These Pastors should be made aware of basic copyright laws before attempting to settle disputes, but they are not bound by that law. In this case a Poor Man's Copyright should be acknowledged as possibly being inaccurate, but could be used as an additional piece of evidence attempting to demonstrate a date of ownership. Unfortunately, in today Christian music industry, mediation is seldom used. I truly believe God is not so pleased about that.
One other way a Poor Man's Copyright might benefit you is emotional security. Your first ventures into songwriting are probably not going to be your best. The likelihood of anyone wanting to steal your songs is extremely low. In this case, a Poor Man's Copyright can provide a feeling of closure for the completion of the song and peace of mind that you have done something to document the song. This peace of mind is certainly reason enough to spend a few dollars. Just remember… while the Poor Man's Copyright may benefit you emotionally and allow your creative process to move on, in the United States Court it no longer has any real legal application.
There is much more information about Copyrights on the way. We have only begun to touch on songwriting copyrights. Eventually we will deal with recording and performance rights. So, bookmark this site and subscribe to the RSS feed to keep up!
CLICK HERE to read the next post in the series called Copyright Notice – Your First Line of Defense in Copyright Protection.
Does your band need more detailed information about music copyrights? Here's the book to get:
It's written by attorneys that teach classes in music law but it's easier than most books to understand because they have kept the lawyer speak to a minimum.
Do you want to register the copyrights for your Christian bands music, but feel uncomfortable doing it yourself? Check out LegalZoom. They have on-line step by step forms you can fill out to walk you through the process.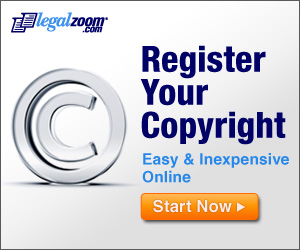 Get Your FREE Christian Band Booking Calendar
Christian musicians need places to play to be able to do their ministry.
Sign up to get a FREE booking calendar that shows you which booking tasks to do each month. Know what to do and when to do it to get more gigs so you can do more ministry.