Registering your songs copyrights does not give you more copyrights. It does make them easier to prove.
Registering your bands songs with the Copyright Office is somewhat confusing to many Christian musicians. Why should you register or not register? When should your register? How do you do it? How much does it cost? These are all common questions.
Let's start with "Why should your register or not register?"
Advantages to Registering Your Song with the Copyright Office:
• Registration is required before an infringement suit can be filed in the United States.
• Registration establishes a public record of the copyright claim. This is important when trying to prove willful infringement of your copyrights. Willful infringement awards can be in the area of $150,000. While defendants who can prove they were "not aware and had no reason to believe" they were infringing on your copyrights may be charged as little as $200. (Obviously, Notice of Copyright is also important.)
• Registration gives you a much stronger case. It establishes prima facie evidence, which means the evidence that you wrote the song is accepted as fact until a rebuttal or contradictory evidence is presented. Once you register your song, the person infringing on your rights must disprove the validity of your registration. This is difficult to do since the copyright office has already validated it.
• Registration within 3 months of publication of before an infringement occurs allows you to collect attorney fees and statutory damages (otherwise only actual damages are allowed). Most statutory damage awards are between $750 and $30,000 per work, at the discretion of the court. Attorney fees can easily run into thousands.
As you can see, all the advantages to registering your song with Copyright Office are legal in nature. Some Christians do not believe they should ever file a case in a legal court involving anything Christian. The appropriate verse is:
"If any of you has a dispute with another, do you dare to take it before the ungodly for judgment instead of before the Lord's people? 2 Or do you not know that the Lord's people will judge the world? And if you are to judge the world, are you not competent to judge trivial cases? 3 Do you not know that we will judge angels? How much more the things of this life! 4 Therefore, if you have disputes about such matters, do you ask for a ruling from those whose way of life is scorned in the church? 5 I say this to shame you. Is it possible that there is nobody among you wise enough to judge a dispute between believers? 6 But instead, one brother takes another to court—and this in front of unbelievers! 7 The very fact that you have lawsuits among you means you have been completely defeated already. Why not rather be wronged? Why not rather be cheated? 8 Instead, you yourselves cheat and do wrong, and you do this to your brothers and sisters."
1 Corinthians 6:1-8 NIV
One of the primary purposes of registering your songs with the Copyright Office is to give you the ability to defend your copyrights in court. So, consider your personal stance on the above verses before automatically registering your songs just because someone told you that you should. Think about what you would do in the worst case scenario… you wrote a hit song that someone stole and is now taking credit for and collecting the royalties. You starve while they buy new cars… what would you do? If you believe that you would never be willing to go to court to defend your rights, you may not want to pay the filing fees to register your songs. However, if you would be willing to go into court under some circumstances or work through arbitration or mediation, registering your songs will lend credibility to your claims. Most songwriters I know register at least some of their songs. But I do know a few people that do not register any songs because they feel it is a waste of their money since they would never go to court. I also know one person who really wished he had registered because he lost a lot of money. So, I'm not going to tell you what to do here, other than to take the time to think about it and be totally convinced in your own heart and mind about what is right for you and your ministry.
If you determine that the legal advantages of registering your songs are right for you, you need to consider how much to spend on registering your songs. There are a couple options. First, you do not have to register every song you write. No matter how good you are at songwriting, you are going to write some songs that are better than others. Some songs may even be amazing but just do not resonate with fans. My recommendation is to register the songs that are most the most marketable: the most likely to be stolen, purchased, or become your own hit. How do you know which songs those are? I have never known a songwriter that did not like the song best that he was currently working on. But, your newest work is not always the most marketable. So, I would definitely not use your own judgment in this area. Test your songs on small groups of people you trust not to steal them. These people do not need to be music aficionados; they do not need to be able to explain to you what you should do better. They do need to be willing to listen and tell you what they like and don't like, even if they can't explain why.
You can save money on registration fees by registering your best songs.
As more money becomes available, you can always register other songs later.
Here's What You Need to Register:
• An Application form
• A nonrefundable filing fee (this fee varies depending on how you file)
• A nonreturnable deposit (a copy of the song being registered or "deposited" into the Copyright Office )
The Application Form
The application can be filed on-line or on paper.
You can save money on registration fees by filing on-line.
The advantages of filing on-line are:
• Lower filing fee of $35 for a basic claim (for online filings only)
• Fastest processing time
• Online status tracking
• Secure payment by credit or debit card, electronic check, or Copyright Office deposit account
• The ability to upload certain categories of deposits directly into eCO as electronic files
• Available 24 hours a day, except for routine maintenance every Sunday from 12:00 midnight to 6:00 AM Eastern Time
To file on-line you must first register with the electronic copyright office. Click Here to start. Whether you are filing on paper or electronically, the form you need to register a song you have written is form PA. After registering, you can fill out and submit form PA on-line.
If you are filing paper, you can print that form by Clicking Here. You must print it double sided with black ink. If you want to file with paper, but want to have a form mailed to you, Click Here. You can also call 1-202-707-9100 which is the Forms and Publications Hotline to request that forms be mailed to you. You must fill out the form using black ink.
There is one other way to file: use Form CO. This is a form you fill out on-line, and then print out, sign and mail to the copyright office. Click Here for instructions and form CO.
The Filing Fees
Currently filing fees for electronic filing are $35, which you can charge to your credit or debit card. Paper filing fees are $65, which you can pay with check or money order made out to "Register of Copyrights". Form CO filing fees are $50, which you can pay with check or money order made out to "Register of Copyrights". It is obvious by looking at the fee structure that the Copyright Office prefers electronic filing. It is much less work for them, so fees are reduced accordingly.
Note that these fees are not refundable. You do not get your money back if the office denies your filing for any reason. There are more fees to amend your filing if you have to change things later.
You can save money by making sure you have filled out the forms completely and accurately.
The Deposit
This deposit is not money, like the security deposit on your apartment. It is the record of the song you have written deposited into the Copyright Offices files. We covered how to create this deposit by fixing your song in Copywrite or Copyrights? The Copyright Office has a brochure titled: "Mandatory Deposits of Copies or Phonorecords" Click Here for more detailed information.
If you file on-line, you should be able to submit your unpublished songs electronically. If your work is published, or if you used form CO, or do not have electronic copies you will need to submit hard copies of your song. A shipping slip will print out on your printer during the filing process. You must use that shipping slip to mail your song because the bar codes are specific to your application.
Collections
There is no legal advantage to submitting (and paying registrations fees for) each song separately. The song may be a little more difficult to find because it must be searched for at the Copyright Office under the collection name, not the individual song title. But, that is most often considered a minor inconvenience.
Your collections must meet these conditions to be submitted:
• The elements of the collection are submitted in an orderly form
• The combined elements bear a single title identifying the collection as a whole
• The copyright claimant in all the elements and in the collection as a whole is the same; and
• All the elements are by the same author, or, if they are by different authors, at least on of the authors has contributed copyrightable authorship to each element.
This is where a band that holds the copyrights to the songs rather than each songwriter holding copyrights has a real advantage. If the band owns the songwriting copyrights, submitting collections is much less complicated.
You can save money on filing fees by submitting collections.
I hope this series of posts has helped you gain a better understanding of Copyrights. Please leave a comment about your experience with Copyrights so other bands will be encouraged and edified!
Disclaimer: Remember that we are discussing songwriting copyrights in this post. Recording copyrights are different and requires form SR (for Sound Recordings).
I am not an attorney, nor do I specialize in copyright law. This is the best information and resources I have, but you need to be responsible for your own business and ministry. Please read all the information available from the Copyright Office at copyright.gov and/or consult your own legal professionals.

Do you want to know more about Copyright Laws? You can get a FREE Kindle Edition of Copyright Basics by the Library of Congress Copyright Office. Click Here to get your edition of Copyright Basics.
This brochure was created by the United States Copyright Office to give a basic overview of Copyright Laws.
Don't have a Kindle? Here's a link to a PDF File: http://www.copyright.gov/circs/circ01.pdf
It's FREE too!
Do you want to register the copyrights for your Christian bands music, but feel uncomfortable doing it yourself? Check out LegalZoom. They have on-line step by step forms you can fill out to walk you through the process.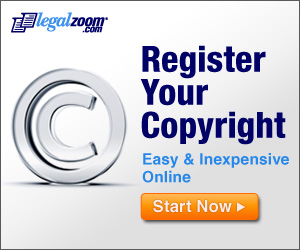 Get Your FREE Christian Band Booking Calendar
Christian musicians need places to play to be able to do their ministry.
Sign up to get a FREE booking calendar that shows you which booking tasks to do each month. Know what to do and when to do it to get more gigs so you can do more ministry.